Active & Green

Escursionismo e Trekking

Summer
The High Route of Valmalenco – 4th stage
Place of departure: Chiareggio
Maximum altitude: 2450 m
Difference in altitude: +1000 m / -400 m
Route time: 6.30 h
Distance: 13 km
The stage allows the transfer from Chiareggio to the pleasant valley of Palù lake, through the pastures of Alpe Fora, the panoramic balcony of Longoni shelter and the disused Alpe Sasso Nero stony ground, from which through a mountain pine wide view you can enjoy a beautiful view from the top of Palù lake. Different itineraries are foreseen depending on the hikers' level of training, their environmental preferences and meteorological conditions. For those who have a good workout and prefer a "higher" variant, it is possible to reduce the High Route one day and join stages 4 and 5, skipping the overnight at Palù shelter and going directly to Capanna Marinelli-Bombardieri through the former Entova-Scerscen shelter near the lower Scerscen glacier. This itinerary allows you to get from the heart of Disgrazia group to the slopes of Bernina one. In case of bad weather it is possible to reach San Giuseppe from Chiareggio with the bus line, then go up to "Barchi" and continue on a comfortable carareccia to Palù lake and Palù shelter.
It is also possible to break the route, staying overnight at Longoni shelter, and then continue on the basic route of the High Route.
TO STAY OVERNIGHT:
- LAGO PALU' SHELTER: +39 0342/452201
- MOTTA SHELTER (few places available): +39 0342/451406
- LONGONI SHELTER +39 0342 451120
- MARINELLI BOMBARDIERI SHELTER +39 0342 511577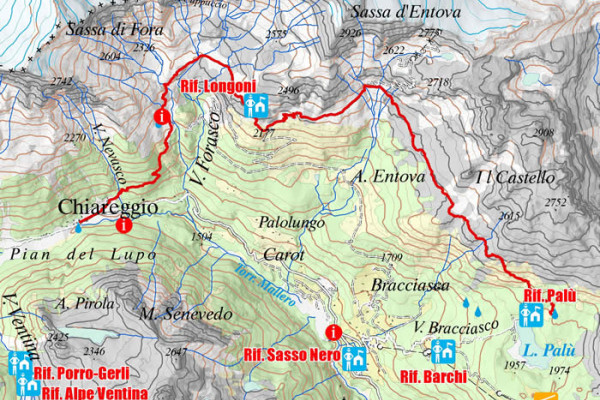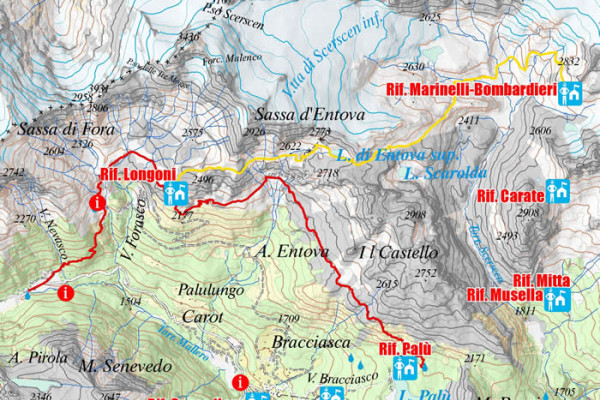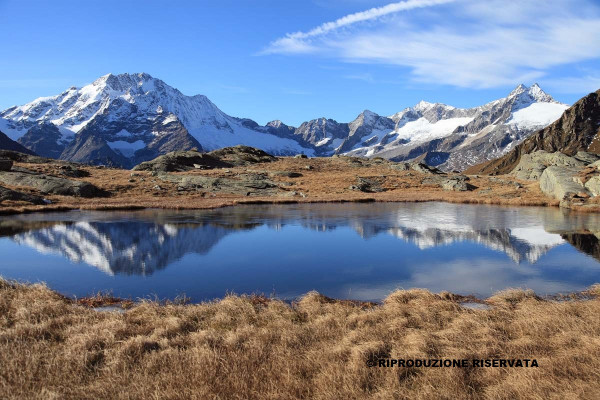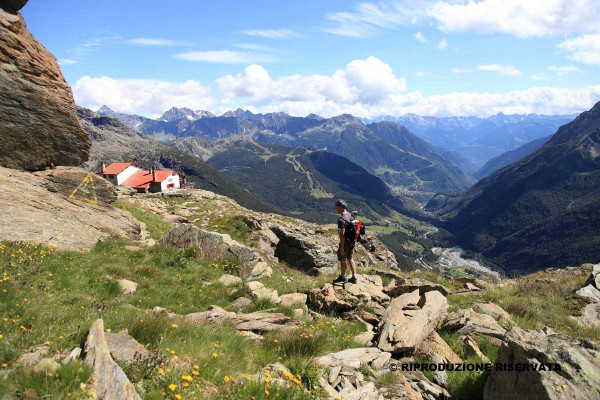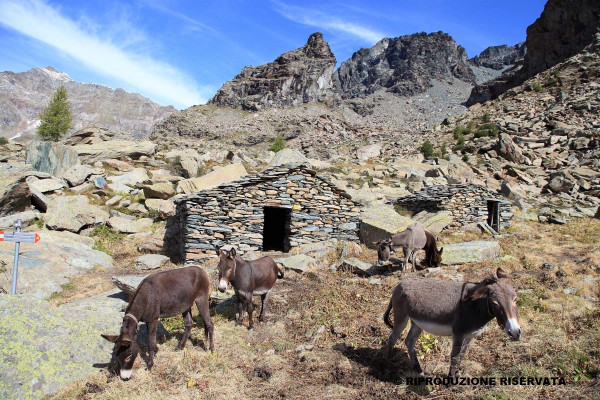 VARIANTE QUARTA TAPPA 
Rif. Longoni (2450 m) - Forcella d'Entova (2831 m) - Rif. Marinelli (2813 m)
Località di partenza: Rif. Longoni
Quota massima: 2831 m
Dislivello di salita: + 700 m / -300 m
Tempo di percorrenza: 6h
Distanza: 11 km 
Dal rifugio si raggiunge la soprastante ampia cresta sud ovest della Sassa d'Entova, che si segue sino a circa 2750, dove abbassandosi leggermente si attraversa l'ampio vallone dell'Entovasco sino al Pian dei Buoi per proseguire verso l'evidente Forcella d'Entova. Dal passo si scende seguendo l'ampio terrazzo naturale in direzione nord est verso il fondo del vallone di Scerscen. A quota 2620 mt è possibile attraversare ulteriormente il costone sulla sinistra superando le balze rocciose calcaree (tratto attrezzato) per raggiungere, attraverso la più importante zona carsica della Valmalenco, il primo dei torrenti (ponte) glaciali dei ghiacciai di Scerscen, dove si ricongiunge al percorso base dalla variante.