Active & Green

Escursionismo e Trekking

Summer
The High Route of Valmalenco – 5th stage
Place of departure: Alpe Lago Palù
Maximum altitude: 2813 m
Difference in altitude: + 1400 m / -600 m
Route time: 6 h
Distance: 12 km
It is the classic stage that allows you to enter the heart of the Bernina group, in an area still characterized by the presence of large glaciers, among the largest in the Italian Alps. Marinelli shelter is one of the most important and well-known alpine refuges. It was also the first, together with the Corna Rossa hut (later Rif. Desio, temporarily unusable) to be built in Valmalenco in the distant 1880. After Bocchel del Torno, in a context characterized by a strong naturalness, it spreads along the ski slopes, in part recently built, to reach and follow the ancient mule track that led from Lanzada to Marinelli shelter, through extensive woods, the pastures of Alpe Campascio and those higher of Alpe Musella. Upstream from Alpe Musella, at about 2240 m, you meet the path from Campo Moro and it continues alternating morainic uplands and steep slopes up to Carate shelter, a few meters from Bocchetta delle Forbici, where the most spectacular and well-known opens view of the Bernina group reflects in the waters of the lake with the same name.
TO STAY OVERNIGHT:
CARATE SHELTER: +39 0342 452560
MARINELLI-BOMBARDIERI SHELTER: +39 0342 511577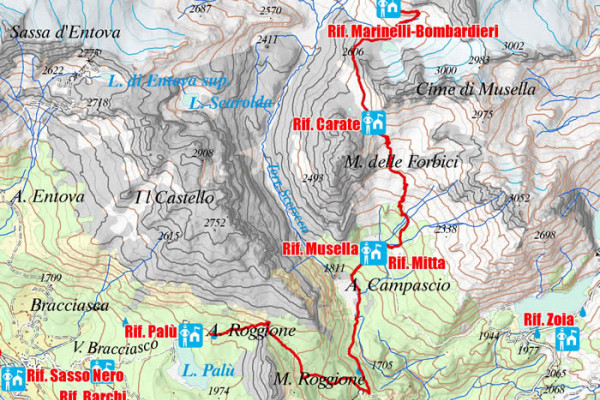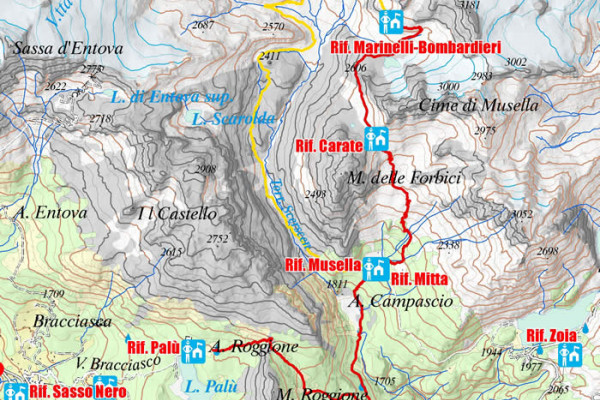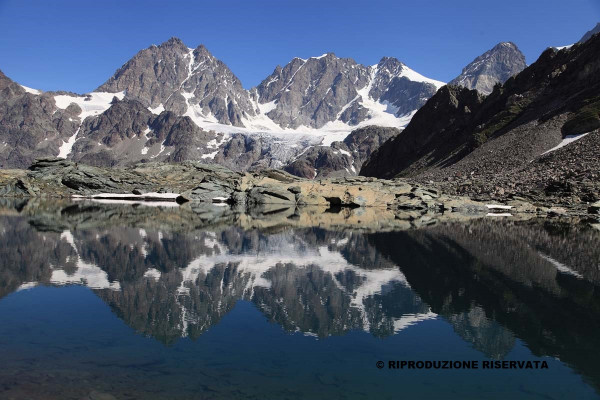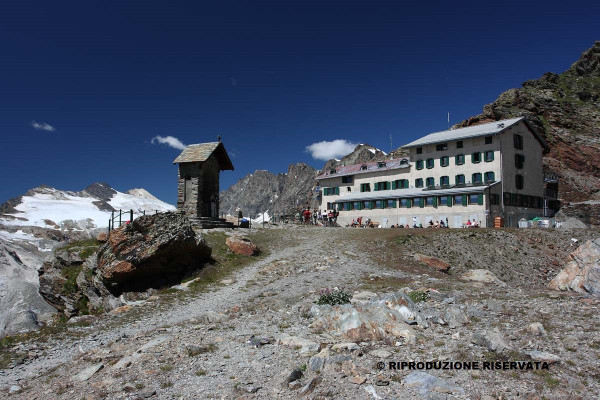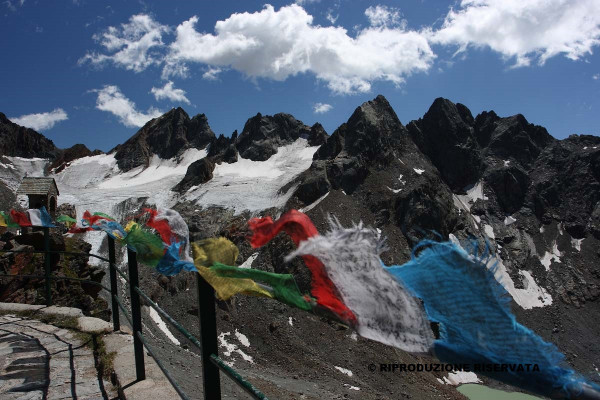 VARIANTE QUINTA TAPPA
A Musella (2021 m) - Vallone di Scerscen - Rif. Marinelli (2893 m)
Località di partenza: Alpe Musella
Quota massima: 2893 mt
Dislivello di salita: 870 mt
Tempo di percorrenza: 5 h
distanza: 10 km 
Partendo dai rifugi all'Alpe Musella è possibile raggiungere il Rif. Marinelli attraverso la variante che percorre l'intero asse della Valle di Scerscen. Il primo tratto comporta una leggera perdita di quota fino all'imbocco del vallone vero e proprio dove, con un alterno saliscendi entro severe pareti di serpentinite, si perviene alle ex miniere di amianto. Attraversato l'impetuoso torrente (ponte) si prosegue sul versante opposto fino ai sedimi dell'antica Alpe Scerscen e da lì sino ai dossi montonati dove è ubicato il cimitero degli Alpini (qui si ricongiunge con il percorso base della quarta tappa variante Forcella d'Entova.) Il percorso non ne prevede la visita, ma prosegue lungo il vallone fino al primo dei torrenti torrenti glaciali dove si incontra con la traccia proveniente dall'area carsica. Il percorso si sviluppa ora entro ampie distese detritiche con rada vegetazione superando altri tre ponti sino a raggiungere un lungo crinale morenico fino ad un terrazzo superiore dove si superano altri due torrenti per pervenire in breve al rifugio.