Itinerario

Active & Green

Cycle Tourism
The Vineyard Route
Chiuro - Sondrio - Berbenno di Valtellina
DEPARTURE/ARRIVAL
From: Chiuro
To: Berbenno di Valtellina
TYPE/PERIOD
Walking
Spring/Summer/Autumn
Duration/Length
-
34km - 2 Stages
CHANGE IN ALTITUDE
Uphill: 670m
Downhill: 640m
The Vineyard Route (Via dei terrazzamenti) is a 70-kilometre pedestrian and cycle path linking Morbegno and Tirano, the lower and the middle valley, at 300 to 700 metres a.s.l., halfway up the Rhaetian slopes, with terraced vineyards and a valuable cultural heritage. Along the way are 40 rest areas with benches, bike rests and info panels about nearby artistic heritage sites.
We suggest those wanting to follow parts of the trail by bike, to choose a MTB or an E-bike, because the frequent ups and downs demand attention and great physical efforts. 
Mostra cosa c'è nelle vicinanze:
Chiuro - Sondrio
Departure point: Chiuro
Arrival point: Sondrio
Time: 4h and 50min
Total length: 16,2km
Maximum ascent grade: 19 %
Maximum descent grade: 8%
The tract from Chiuro to Sondrio has lots of steep, rough parts. It passes through the Inferno, Grumello and Sassella vineyards and important old town centres such as Ponte, Chiuro and Teglio. Its many forks call for special attention to signs (yellow arrows on sticks and red and white signs on walls).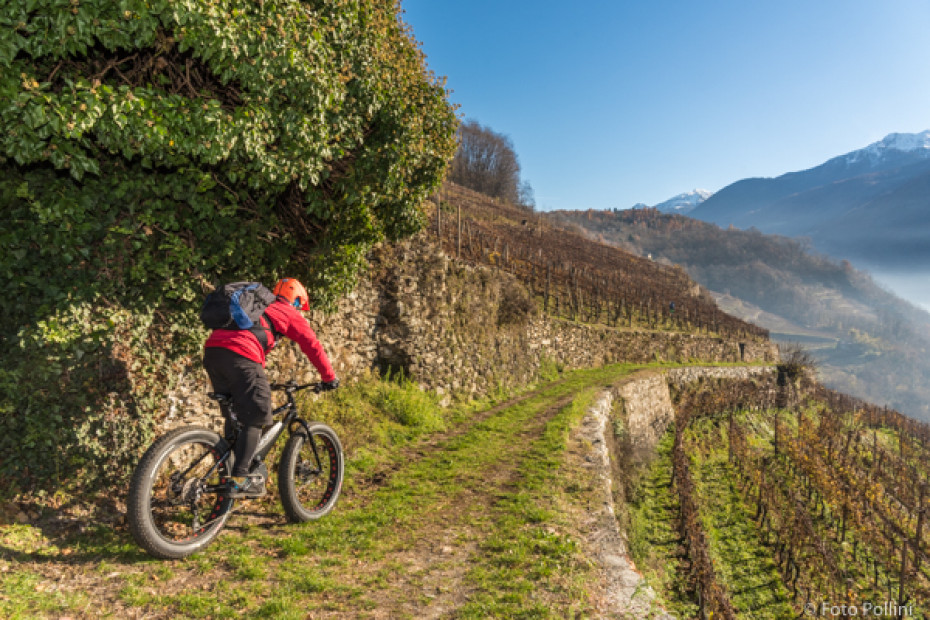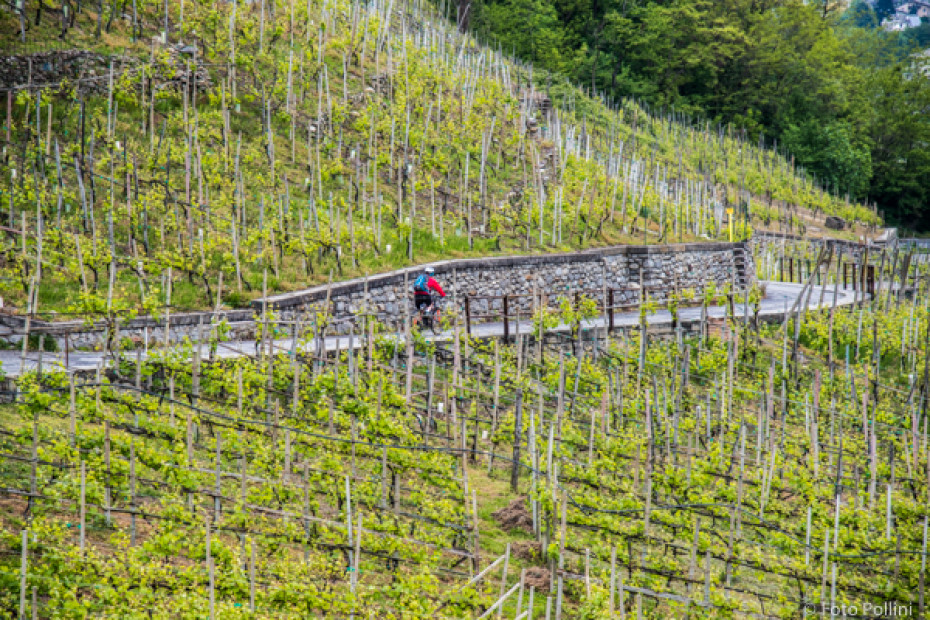 Sondrio - Berbenno
Departure point: Sondrio
Arrival point: Berbenno
Time: 5h e 20min
Total length: 17,8 km
Maximum ascent grade: 27 %
Maximum descent grade: 20%
The stretch between Sondrio and Berbenno is characterized by a huge overall difference in altitude. Mostly tarmacked, it also has some parts on rough tracks and steep climbs. Its many forks call for special attention to signs (yellow arrows on sticks and red and white signs on walls.)