Itinerario

Active & Green

Escursionismo e Trekking
Sentiero tematico-glaciologico Luigi Marson
DEPARTURE/ARRIVAL
From: Alpe Fellaria
To: Ghiacciaio Fellaria
TYPE/PERIOD
Trekking
Summer
Duration/Length
1h e 50min solo andata
5.50km
CHANGE IN ALTITUDE
Uphill: 346m
Downhill: 382m
The trails run through stunningly beautiful landscapes moulded by the glacier passage and there are a host of natural features to explore. The environment is strongly influenced by the glaciers presence, reflecting the intensity of the relationship between the glaciers passage, the morphology of the landscape, the flora and, in fact, the entire ecosystem, which is also significantly influenced by the altitude.
Luigi Marson Glacier Walk on Fellaria Glacier
The Marson glacier route enables the hiker to explore the splendid, natural environment of the Fellaria glacier, one of the largest in the Italian central alps. There are differentiated routes (A,B and C), which show not only the different glaciological aspects of the area, but also the geomorphology and the entire eco-system closely linked to the presence of the glacier. Prepared by the Lombard Glaciological Service, it is dedicated to Luigi Marson, a scholar who lived between the 19th and 20th centuries. He was a member of the Italian Geographic Society and was among the first to carry out observations of the Valmalenco glaciers for scientific purposes. From the Bignami refuge hut, proceed towards Marinelli and once past the torrent, go northwards across the pastures. Pass under a rocky outcrop (route B), to reach the edge of the proglacial plain, from where you can observe some marvellous, rocky whalebacks. The route is marked with blue symbols and winds across the plain, touching the waymarked points which highlight the drastic regression of the glacier recorded from the so-called Little Ice Age (around 1850). From the plain you can rejoin route A (the final part of which follows the high variation of stage 6 of the High Route). It rises up the right-hand, lateral moraine, where it is not so steep, until it reaches the tiny lake of Fellaria, and then returns along a trail which descends above the rocky outcrop into the valley. Only attempt this route in good weather conditions and with good visibility. Take special care in the exposed stretches. Route C is of recent construction and leads to the Fellaria Est where a amazing proglacial lake has been created. It's no difficult to meet alpine ibex around this area. Do not attempt to walk on the glacier without being accompanied by an alpine guide or without the appropriate training or equipment.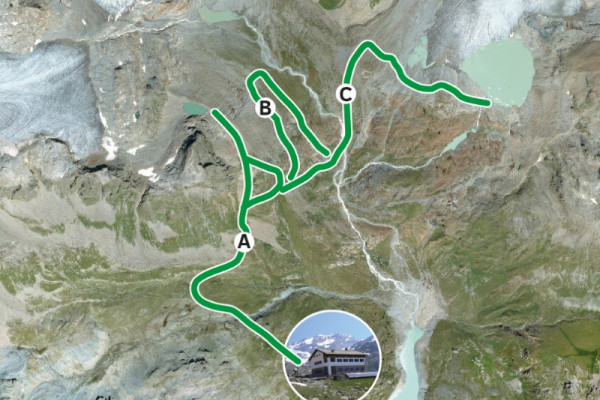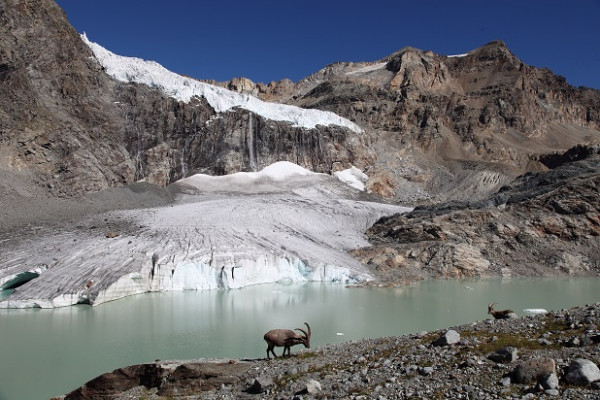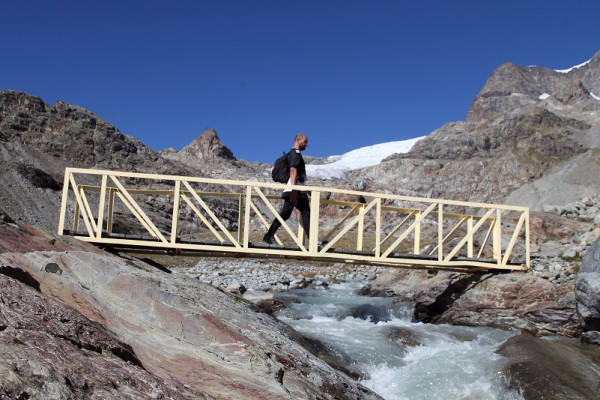 Mostra cosa c'è nelle vicinanze: